Small Business Agreements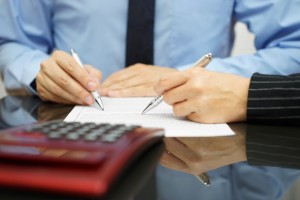 The problems faced by small business owners don't come with labels attached. Sometimes it's hard to know whether the issue you are facing is a legal one, an ethical one, a business one or some combination of the three. Who do you turn to for guidance in sorting things out?
At Bowne Barry & Barry, we are proud to have been helping New Jersey small business owners identify, understand and successfully resolve their various challenges for well over a decade.
How do we do this?
Based upon our law partners' decades of legal and business experience, we know the right questions to ask;
short term goals
long term goals
business priorities
operational concerns etc.
More importantly, we know how to listen to and understand your answers.
Our old-fashioned approach enables us to become our client's thinking partner. It helps our clients move from uncertainty to empowerment and from intractable problem to practical solution.
Here are just a few examples of the types of questions we help New Jersey small business owners think through on a regular basis:
Should my business be an LLC, an S Corp., a C Corp, etc.?
What type of insurance do I need?
Should I have employees or independent contractors?
Do I need a policy manual?
How enforceable is the non-compete language in my contract?
Which licensing or ethical considerations relevant to my issue?
Partners Laura Bowne Barry and David C. Barry have successfully consulted with a wide variety of small businesses over the years.
Laura's background has provided her with particular experience with and insights into business issues. David's training and licensure as a licensed social worker, and experience gained as President of the National Association of Social Workers – New Jersey provides him with unique insights into the challenges faced by businesses providing mental health services.
When you don't know where to turn for your small business problem, give us a call at 732 238-8686. We offer free consultations. We'll help you and your business move from problem to solution.